USER PRIVACY AND DATA PROTECTION
We have a duty of care to the people within our data.
Data is a liability, it should only be collected and processed when absolutely necessary.
We will never sell, rent or otherwise distribute or make public your personal information.
RELEVANT LEGISLATION
Along with our business and internal computer systems, this website is designed to comply with the following national and international legislation with regards to data protection and user privacy:
If you are unsure about whether this site is compliant with your own country of residences' specific data protection and user privacy legislation you should contact us for clarification.
HOW WE STORE YOUR PERSONAL INFORMATION
Personal data is not stored on this website.
USE OF COOKIES
Cookies provide information regarding the computer used by a visitor. We use cookies where appropriate to gather information about you computer in order to assist us in improving our website.
We may gather information about your general internet use by using the cookie. Where used, these cookies are downloaded to your computer and stored on the computer hard drive. Such information will not identify you personally. It is statistical data. This statistical data does not identify any personal detail whatsoever.
You can adjust the settings on your computer to decline any cookies if you wish. This can easily be done by activating the reject cookies on your computer. However in a few cases some of our website features many not function as a result.
USE OF YOUR INFORMATION
We use the information that we collect from you to provide our services with you. In addition to this we may use the information to one or more of the following purposes.
To provide information to you that you request from us relating to our products and services.
To provide information to you relating to other products that may be of interest to you. Such additional information will only be provided where you have consented to receive such information.
To inform you of any changes to our website, services goods, products, contracts and pricing.
If you have personally purchased goods or services from us we may provide to you details of similar goods or services, or other goods and services, that you may be interested in. Where such consent has been provided it can be withdrawn by you at any time.
COLLECTION OF INFORMATION
The following information is only collected upon completion of the contact form:
Name
Email address
DATA BREACHES
We will report any unlawful data breach of this website's database or the database(s) of any of our third party data processors to any and all relevant persons and authorities within 72 hours of the breach if it is apparent that personal data stored in an identifiable manner has been stolen.
DATA PROTECTION OFFICER
Kate Morris
Director, Morris Plumbing and Heating Limited
Telephone: 01202 265777
Morris Plumbing & Heating Ltd
We are the Bournemouth Plumber; Your local friendly plumbing and heating company.
We specialise in Plumbing, Heating, Boiler maintenance and servicing, Emergency call outs and Landlord gas safety certificates.
Covering all areas of the BH postcodes, based in BH6 we cater to those in Bournemouth, Christchurch, Highcliffe, Dorset & Hampshire.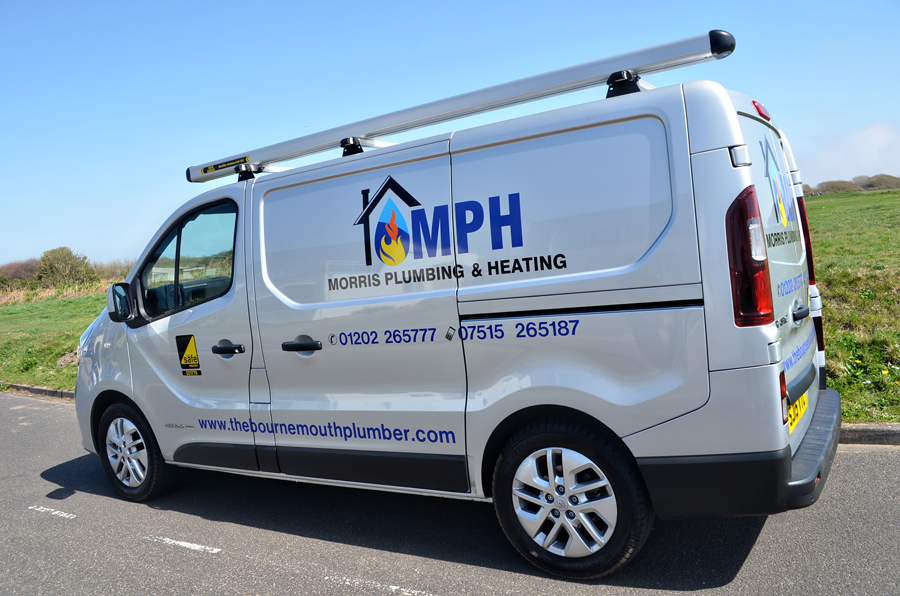 Search…